Lowe's grants $50,000
Northern Ocean Habitat for Humanity received a $50,000 grant from Lowe's to be used toward its critical home repair program. This program provides critical home repairs to low-income individuals and families to create easier and safer living conditions. This program is not a hand out, but a hand up, requiring homeowners to complete sweat equity hours to give back to the community.
Through this grant, Northern Ocean Habitat for Humanity was able to complete 9 critical home repairs ranging in Toms River, Berkeley, Whiting, Cream Ridge, Lakewood, and Jackson. Some of the work included ADA modifications, weatherization repairs, and exterior restoration. These repairs and modifications also allow senior homeowners to age-in-place in their own homes with pride and dignity. One of the projects completed was for a senior Jackson resident, Robert, involving a group from the Army Unit at Joint Base McGuire-Dix-Lakehurst.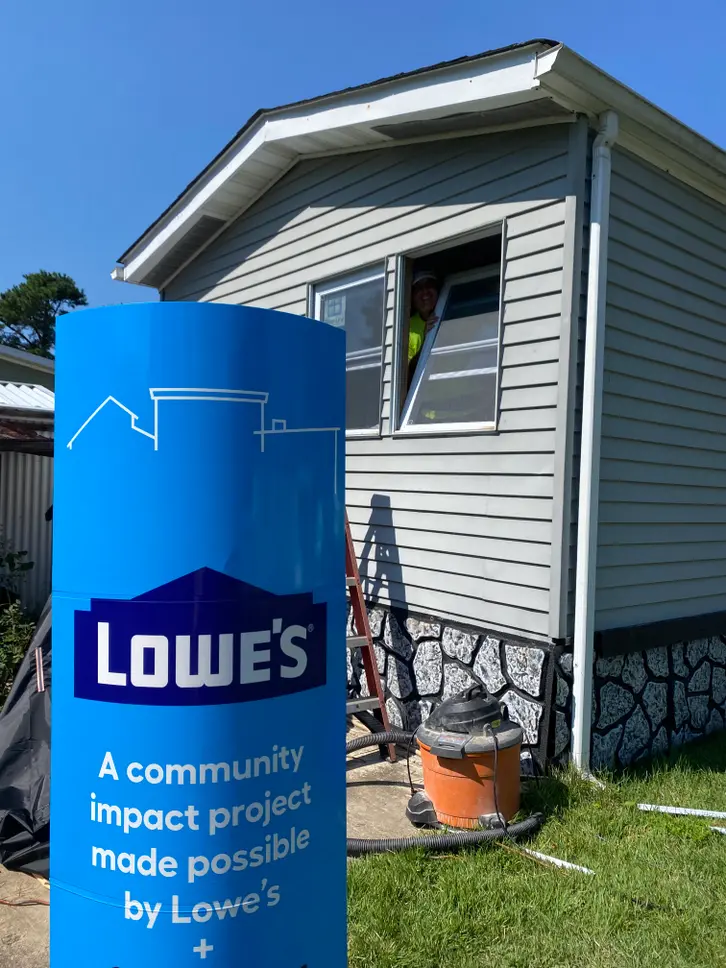 "The windows are original to the home (1974). Mold was starting to form by how the water was coming in through the window, and this was becoming a major concern as I'm on oxygen 24/7," said Robert, a Jackson resident homeowner.
"… I used to be very handy until I was disabled in 2015. Before then, most of my home I custom made. My living room looks like a cabin, and I take pride in my home, "continued Robert, Jackson homeowner, "That's when I frequently shopped at Lowe's for materials for my home improvement projects. I actually just gave to Lowe's Giving Match on Giving Tuesday."
Habitat staff, Laura Paolillo and Amy Schratz, visited the Brick Lowe's Store #1535 mid-November to guest speak at the Lowe's supervisors' meeting. They met with the Store Manager, Vladimir Blazanin, and the other supervisors to discuss the grant, the 9 homes helped, and to inform them about our home repair program. The staff learned more about volunteer opportunities and plan to join on some projects next year.
In the nearly 20 years since Lowe's and Habitat began their partnership in 2003, Lowe's has supported many of the global housing nonprofit's efforts, including the Women Build Program and Habitat's Neighborhood Revitalization program. Lowe's has also proudly supported Habitat's Cost of Home national advocacy campaign and sponsored local Habitat builds and employee volunteer days, in addition to providing affiliate grants and donated products. Lowe's commitment through 2022 will bring the company's total contributions to Habitat to more than $84 million.