what is a restore?
Northern Ocean Habitat for Humanity's ReStore sells a variety of gently used merchandise such as sofas, dining room and bedroom sets, wall art, kitchen appliances, and more. With two truck deliveries per day, it's the perfect place for bargain seekers and DIYers to shop! 
Join our online community to see our new arrivals. Every purchase and every donation supports our mission to build and repair homes for those in need in our community.
Are you looking to donate furniture, appliances, or household items? Fill out the contact form with details of your items, and we will schedule your free pick-up!
shop
With our constantly changing inventory, prices well below retail, frequent markdowns, and one-of-a-kind items, you're sure to find something you can't live without. Make sure to stop by often. If you miss a day, you might miss a deal! 
Join our online community to shop and see our new arrivals.  We post daily on our Facebook ReStore group page, sharing photos of the merchandise. Phone orders accepted.
Donate
Remodeling, cleaning out, downsizing or just getting organized? Consider donating your excess household goods and building materials to the Habitat ReStore. You'll get the satisfaction of knowing your donations helped support local families – and didn't end up in the landfill. And all of your donations are tax-deductible to the fullest extent allowed by law.
Drop off your items
You can drop off your items Tuesday-Friday 10am-4pm. Drop off location is behind the store. One of our team members will assist you and provide a tax-deductible receipt.
Your donation to the ReStore is tax-deductible and 100% of the proceeds support our mission. You are also helping our community by keeping good, reusable items out of landfills. Our Federal Tax EIN is 22-3661840.
Items accepted:
Appliances (8 years or younger)
Bathroom & plumbing (new only)
Bottom of china closet (if it has a solid top)
China and dishware (accepting sets only)
Flat screen TV's only
Doors
Flooring, hardwood and tile (new in box only; 40 sq ft minimum)
Furniture (gently used, please call 732-818-9500 x 123)
Carpet and rugs (6 ft x 8 ft maximum)
Garden items and tools
Headboards (only if it is part of a FULL bedroom set)
Home décor (tchotchkes, collectibles, and glassware)
Kitchen cabinets (gently used, please call 732-818-9500 x 123)
Kitchen essentials (pots, pans, small appliances, flatware, etc.)
Lighting (chandeliers, porch, etc; must be clean and working)
Lamps with shades (must be working)
Paint (new only)
Tools/ Workshop
Desks (home use only)/ desk chairs/ filing cabinets
Pictures, frames, paintings, mirrors with frames only
Towels
Items not accepted:
Books
Children's items or toys
China closets
Clothing
Electronics
Entertainment Centers
Faucets (used)
Headboards (only with full bedroom sets)
Linens of any kind
Lumber/sheetrock
Mattresses/box springs
Pianos or organs
Pesticides or fertilizers
Used toilets
ReStore Donation Questionnaire
Donate to the ReStore
Please provide the details in our Donation Questionnaire form and someone from the Northern Ocean Habitat for Humanity ReStore will contact you ASAP. We are also available Tuesday – Saturday 10:00 AM – 6:00 PM at (732) 818-9500 ext. 123 or email restoremanager@nohfh.com, if you have any questions.
donation pick up hours
Tuesday-Saturday 9am-4pm
The donation coordinator will be in touch to see if your donation is eligible for pickup.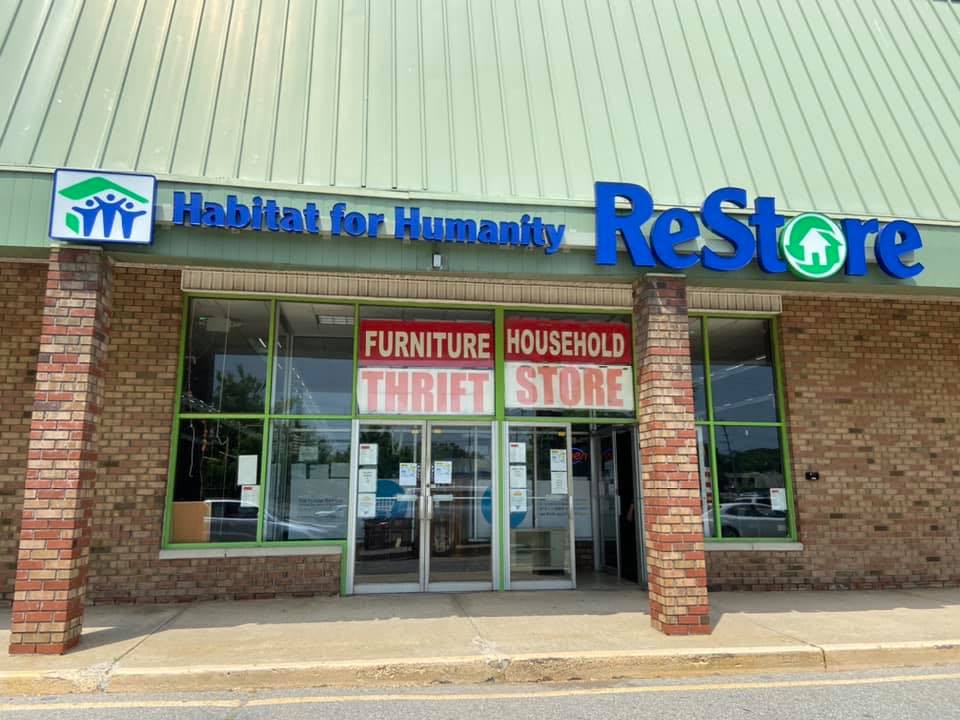 Volunteers ages 14+ welcomed!
Looking for your teen to develop soft skills, gain cash register experience, volunteer hours to put on their resume or college applications? Are you a retiree looking to give back? Consider joining our team!
800

+

tons diverted from the landfill in 2022
2800

+

sales transactions per month in 2022
39
social security vouchers in 2022
20

+

years serving Ocean County
"If you are thinking about volunteering at Habitat, we welcome you with open arms. It's a fun group. We have a good time. There's a lot of humor. There's a lot of helping each other. There's a lot of helping the customers."
Claire, ReStore Volunteer
great store.  great prices.  great cause.
Accepting all major credits cards (Visa, Mastercard, Discover, AMEX) and cash. Does not accept checks, money order. Does not accept mobile payment services such as Paypal, Apply Pay, Google Pay, Venmo or any cryptocurrencies.
Join our online community to shop and see our new arrivals.  We post merchandise on the Facebook ReStore Group daily.
Phone orders accepted for any item displayed in the Facebook Group. 732-818-9500
Join the ReStore Group on Facebook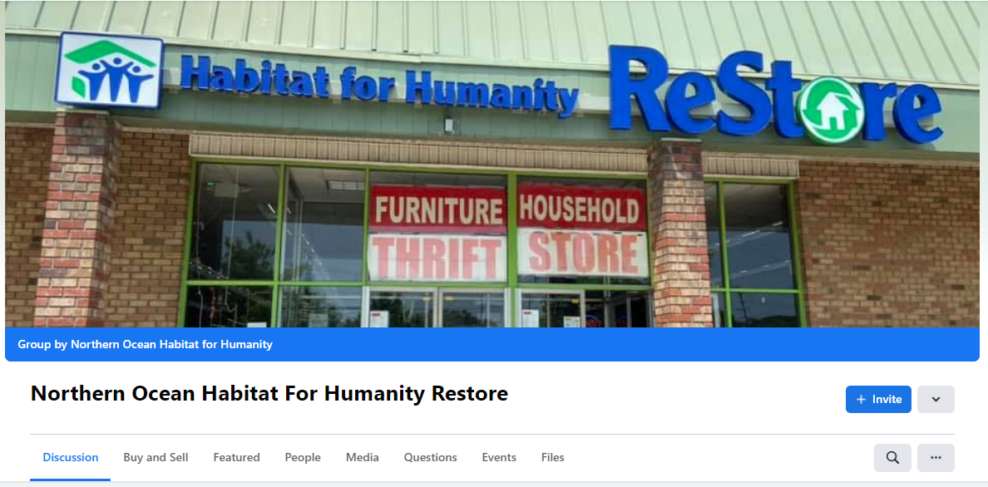 1214 Route 37 East, Toms River, NJ 08753
Open Tuesday – Saturday from 10 a.m. – 6 p.m.
Donations accepted Tuesday – Saturday from 10 a.m. – 4 p.m.
Phone: (732) 818-9500 ext 123
Restore Manager: restoremanager@nohfh.com