State Farm Youth Action Grant
Donovan Catholic High School's Habitat Chapter gets involved in a Toms River Arc community project through a State Farm grant.
Northern Ocean Habitat for Humanity was one of many Habitat affiliates to receive a Youth Action Grant from State Farm, which promotes youth engagement and inspires change in communities across the U.S. This partnership creates young leaders, advocates for affordable housing initiatives, and educates students about Habitat projects.
For Northern Ocean, this grant enabled our Donovan Catholic High School Chapter to get involved in a community project at the Toms River Arc, a non-profit that fights to protect civil rights and access to vital programs for those with intellectual and developmental disabilities (IDD). A group of 9 students received a horticulture lesson from 4-H prior to their project and worked alongside Habitat volunteers to build 2 garden beds.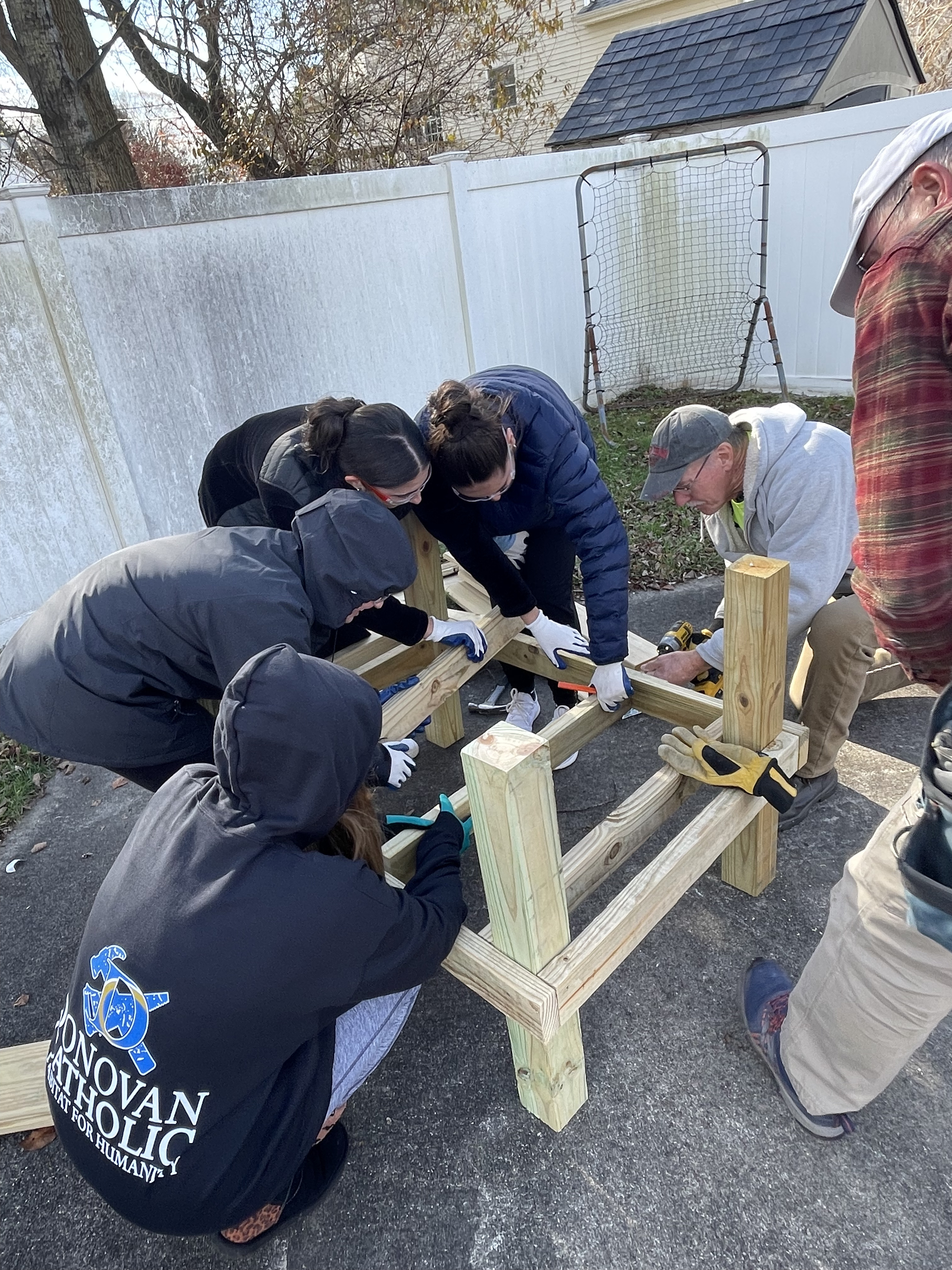 "This State Farm grant was a unique opportunity to bring together Donovan Catholic, the ARC of Ocean County, and 4-H while building Northern Ocean Habitat's capacity to serve our local group homes," said Amy Schratz, Program Services Manager at Northern Ocean Habitat, "Every year we receive more and more requests for raised garden beds to provide enrichment and fresh flowers, herbs & produce for the home's developmentally disabled residents."
The students had a wonderful experience through this grant, gaining construction skills and gardening knowledge, and serving their community. Jennifer Young from State Farm came out to our project to present the Youth Action Grant of $1,000 to Northern Ocean Habitat for Humanity.
State Farm gave a $650,000 donation to Habitat for Humanity to further engage young leaders across the US in Habitat's mission of bringing people together to build homes, communities, and hope. The State Farm donation provides funding for Habitat's youth programs, other program resources, operations, and event support, and grants to local Habitat organizations partnering with student Habitat chapters and community youth projects that support long-term affordable housing.
Habitat for Humanity and State Farm began their partnership in 1994. Since then, State Farm has donated nearly $15 million to Habitat for Humanity to support and involve youth in the housing nonprofit's missions. State Farm's local community grants have generated an additional $50 million in funds for Habitat for Humanity. With State Farm's support, Habitat has engaged more than 800,000 youth, and more than $3.2 million has been raised to match State Farm grants by Habitat organizations in 300 communities across the country.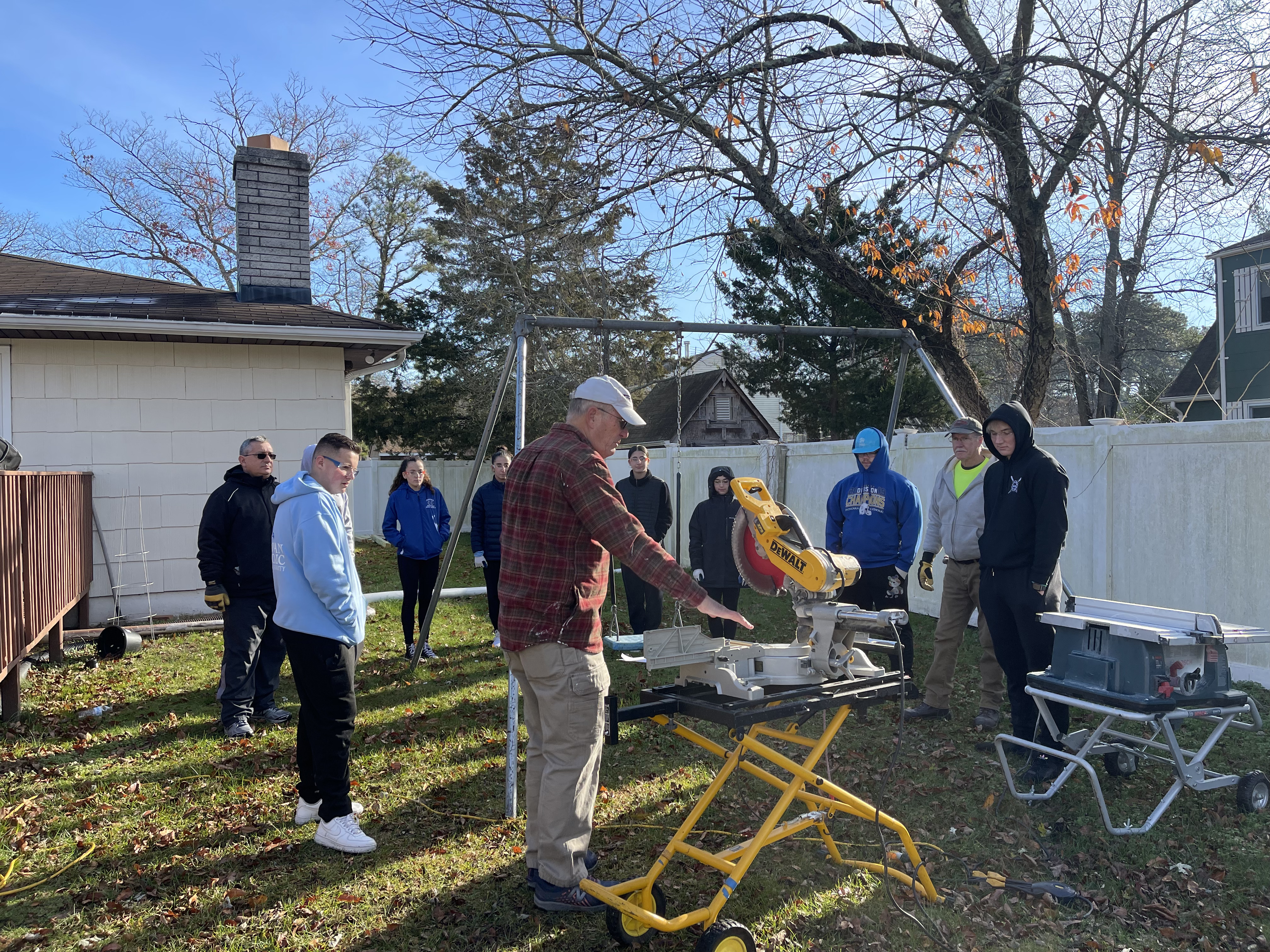 ###
About Northern Ocean Habitat for Humanity
Northern Ocean Habitat for Humanity, a New Jersey-based affiliate of Habitat for Humanity International, was founded in 1999. Through volunteerism, skilled labor, and donations of money and materials, the organization rehabilitates and builds safe houses alongside its homeowner/ partner families. Northern Ocean Habitat also operates the ReStore, a retail shop that generates funds through sales of donated goods and keeps materials out of landfills. The ReStore proceeds are to support new home builds and its Neighborhood Revitalization programs. The Neighborhood Revitalization initiative includes the Home Preservation, Housing Plus Aging in Place, A Brush with Kindness, and Veteran Repair programs. These programs provide home renovations addressing health and/or safety issues, all with the goal of keeping residents in the comfort of their own homes. To learn more, visit https://northernoceanhabitat.org/
About State Farm
For 100 years, the mission of State Farm has been and continues to be to help people manage the risks of everyday life, recover from the unexpected and realize their dreams. State Farm and its affiliates are the largest providers of auto and home insurance in the United States. Its 19,300 agents and nearly 55,000 employees serve approximately 86 million policies and accounts – which include auto, fire, life, health, commercial policies, and financial services accounts. Commercial auto insurance, along with coverage for renters, business owners, boats, and motorcycles, is available. State Farm Mutual Automobile Insurance Company is the parent of the State Farm family of companies. State Farm is ranked No. 39 on the 2021 Fortune 500 list of largest companies. For more information, please visit http://www.statefarm.com.